Resole Criteria
Can your sole be saved?
You May Need Rand Repair
If the rand is worn too thin or has a hole in it, your shoes will require rand repair. If you send your shoes in before the rand starts to wear thin or forms a hole, you will not need rand repair and will be eligible for a cheaper service! See the photos below for a guideline.
You can gauge the thickness of the rand by pressing your thumb into various spots on the tip of the shoe. You'll be able to feel thinned rand as a very soft spot.
This shoe is ready for a Half Resole. The sharp edges have worn rounded, edging performance suffers, and the seam between the sole and the rand is just starting to recede downward.
Rand Repair Likely Needed
The edges are gone, edging performance is poor, and the seam between the sole and the rand has receded downward significantly. It is likely that the rand has thinned enough to make rand repair essential.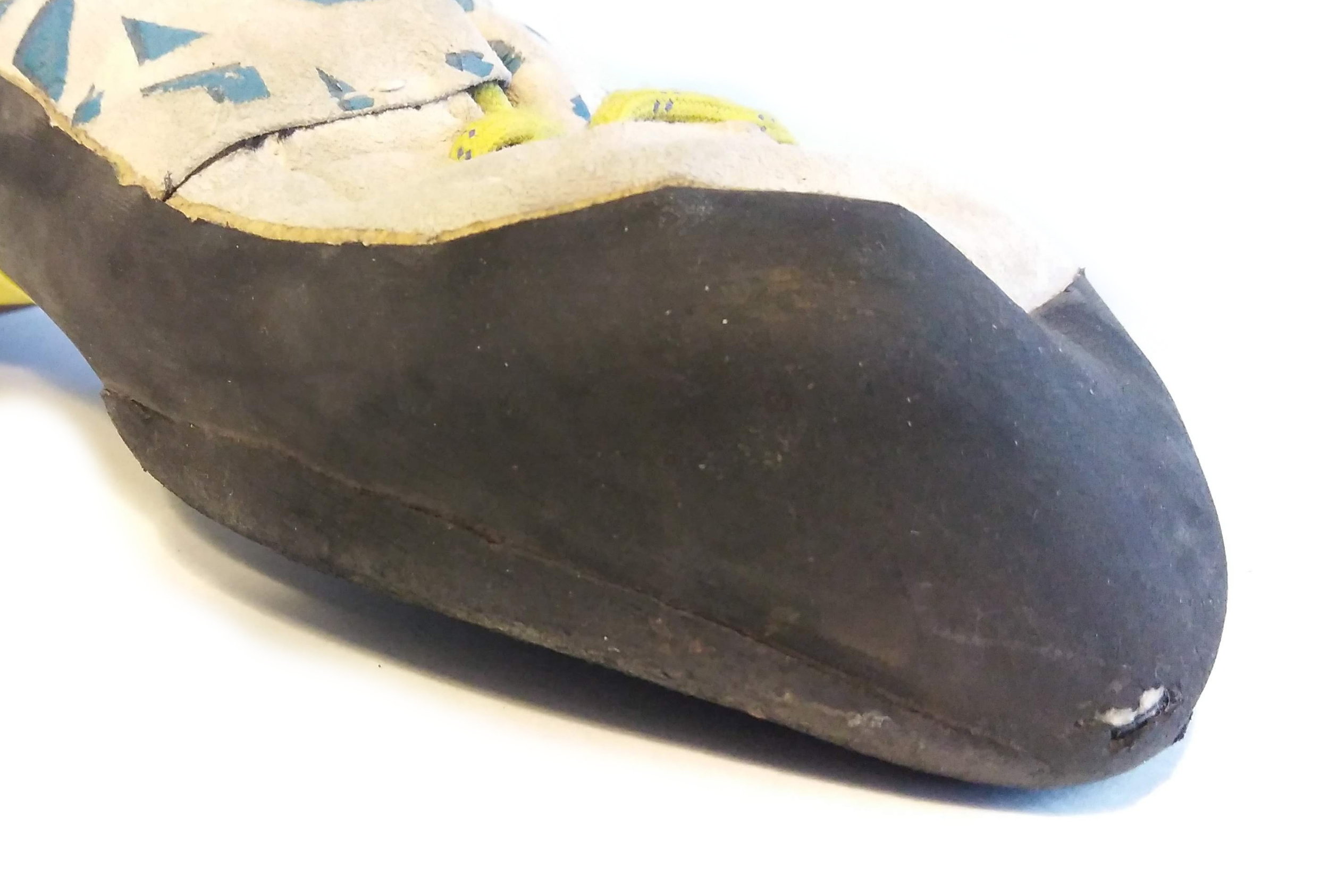 This shoe needs Rand Repair. The edges are long gone, the rand has thinned and formed a hole. Performance is poor in all aspects and further climbing risks damage to the shoe.
Your Shoes Could be Beyond Repair
If your shoes have major holes or tears, a repair may alter the fit of the shoe, or result in major performance and durability issues. We will not perform repairs on these shoes.
It is possible that the leather upper of your shoes has become rotted, cracked, and brittle underneath the rand. This happens as a function of age, and the care the shoe has received through its life. Sometimes this cannot be determined until the shoe is partially deconstructed. In this case, you will receive a full refund of service charges, and we will give you the option of having your shoes returned as-is, or having us dispose of or recycle the shoes for you.
Please contact us with photos of any questionable shoes before you send them in. You can email photos to info@ontarioresoles.ca
No-Edge Shoes (Futuras, Geniuses, etc.)
Yes! We can resole these shoes to look and perform just like new. We are an authorized La Sportiva resoler, and offer authentic La Sportiva replacement No-Edge Soles.

Note that for a No-Edge Shoe Resole, you must have La Sportiva shoes, and XS Edge and 5.0 mm rubbers are not an option.
We can also resole these shoes with a conventional style sole and edge. The part of the sole that wraps up and over the toe is split and removed, maintaining the scum patch — see photo.
Previously Resoled Shoes
We can resole shoes more than once! Especially if you send in your resoles before needing rand repair.
Approach Shoes
At this time we do not offer resoling of approach shoes.